AUTO-VOX CS-2 Wireless Backup Camera, Stable Digital Signal Rear View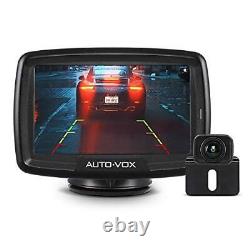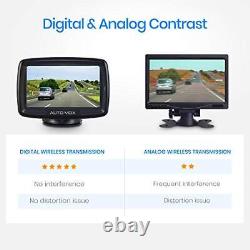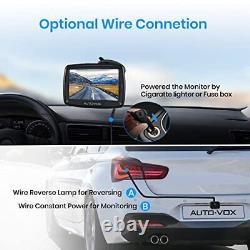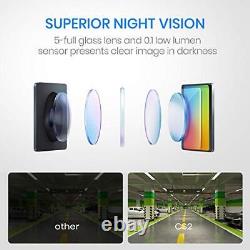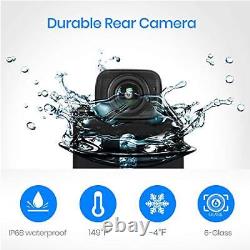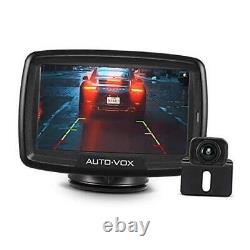 AUTO-VOX CS-2 Wireless Backup Camera, Stable Digital Signal Rear View. Back Up Camera with Stable & Vivid Image?
With digital wireless signal, CS-2 license plate car backup camera delivers a stable image without any interference from other signals. Equipped with a PC1058 sensor, the rear camera provides vivid footage, which restores what you see behind your vehicles directly. Accuracy - Top priority for parking Camera?
The reverse camera comes with 110 golden angles to avoid image distortion. CS-2 wireless backup camera for trucks is the best choice for reversing/monitoring.
Together with the adjustable parking lines that fit different heights camera installation place makes CS-2 a trusted parking assistant. Ideal Back up Camera Systems for Car?
Tfore whether it is sunny or rainy, hot or cold, day or night, the camera always performs well. Easy Installation Wireless Rear View Camera?
The suction cup mount allows you to install the monitor on windshield or dashboard. The transmitter is cleverly designed inside the backup camera, no wires connecting from monitor to rear camera, all of these simplify the installation. You just need to mount the monitor, attach the rear camera to the license plate and connect it to reverse light or constant power.
License Plate Backup Camera with High Compatibility? The wireless range can be up to 100ft in the open area, so you can mount the camera in any position of your vehicle. The image can be flipped between mirror (rear view) and facing (front view), which ensures you can use the camera as rear backup camera or front camera optional. Just trust the AUTO-VOX brand with your car backup camera, as we have always been a leader in the solar backup camera field.
This item is in the category "Consumer Electronics\Vehicle Electronics & GPS\Car Video\Rear View Monitors/Cams & Kits". The seller is "reefbenmeir12-5" and is located in this country: US. This item can be shipped worldwide., Albania, Algeria, Andorra, Angola, Anguilla, Antigua and Barbuda, Argentina, Armenia, Aruba, Australia, Austria, Azerbaijan Republic, Bahamas, Bahrain, Bangladesh, Belgium, Belize, Benin, Bermuda, Bhutan, Bolivia, Bosnia and Herzegovina, Brazil, British Virgin Islands, Bulgaria, Burkina Faso, Cambodia, Cameroon, Canada, Cape Verde Islands, Cayman Islands, Chile, China, Colombia, Comoros, Democratic Republic of the Congo, Republic of the Congo, Cook Islands, Costa Rica, Côte d'Ivoire (Ivory Coast), Republic of Croatia, Cyprus, Czech Republic, Denmark, Djibouti, Dominica, Dominican Republic, Ecuador, Egypt, El Salvador, Equatorial Guinea, Eritrea, Estonia, Ethiopia, Falkland Islands (Islas Malvinas), Fiji, Finland, France, Gabon Republic, Gambia, Georgia, Germany, Ghana, Gibraltar, Greece, Greenland, Grenada, Guatemala, Guernsey, Guinea, Guinea-Bissau, Guyana, Haiti, Honduras, Hong Kong, Hungary, Iceland, India, Indonesia, Ireland, Israel, Italy, Jamaica, Japan, Jersey, Jordan, Kazakhstan, Kenya, Kiribati, South Korea, Kuwait, Kyrgyzstan, Laos, Latvia, Lebanon, Lesotho, Liechtenstein, Lithuania, Luxembourg, Macau, Macedonia, Madagascar, Malawi, Malaysia, Maldives, Mali, Malta, Mauritania, Mayotte, Mexico, Moldova, Monaco, Mongolia, Montenegro, Montserrat, Morocco, Mozambique, Namibia, Nauru, Nepal, Netherlands, New Zealand, Nicaragua, Niger, Nigeria, Niue, Norway, Oman, Pakistan, Panama, Papua New Guinea, Paraguay, Peru, Philippines, Poland, Portugal, Qatar, Romania, Rwanda, Saint Helena, Saint Kitts-Nevis, Saint Lucia, Saint Vincent and the Grenadines, San Marino, Saudi Arabia, Senegal, Serbia, Seychelles, Sierra Leone, Singapore, Slovakia, Slovenia, Solomon Islands, South Africa, Spain, Sri Lanka, Suriname, Sweden, Switzerland, Taiwan, Tajikistan, Tanzania, Thailand, Togo, Tonga, Trinidad and Tobago, Tunisia, Turkey, Turks and Caicos Islands, Tuvalu, Uganda, United Arab Emirates, United Kingdom, Uzbekistan, Vanuatu, Vatican City State, Vietnam, Zambia.

---