Wireless Backup Camera Car HD 1080P WiFi Rear View System 7 Inch Monitor Kit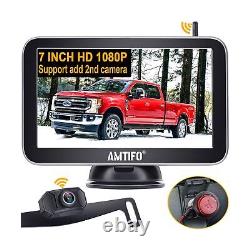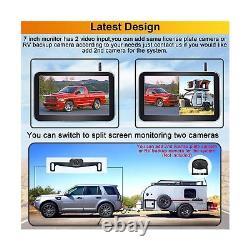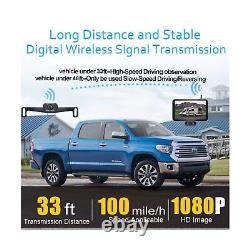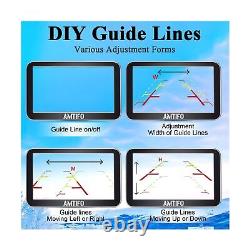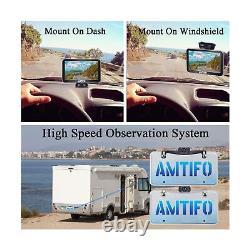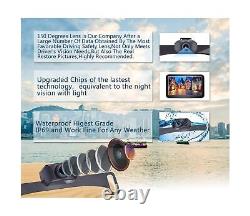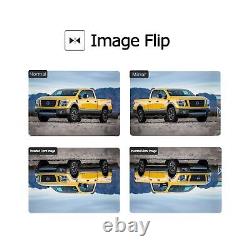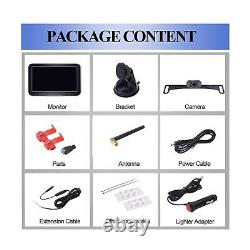 Wireless Backup Camera Car HD 1080P WiFi Rear View System 7 Inch Monitor Kit Truck Camper RV Hitch Auto License Plate Back Cam AMTIFO W70. Package Dimensions: 9.06 x 5.91 x 3.39 inches. Item Weight: 1.5 pounds. Date First Available: December 30, 2019. Digital Stable SignalUpgraded back up camera systems wireless tested for 33 ft at high speeds no interference.
Compatible with Cars, Pickups, trucks, Small RVs, Camper, etc. 7 Inch Monitor With 2 ChannelsCar camera with 7 Inch monitor support add to 2nd back up camera.
You can choose 2nd license plate backup camera or another rv backup camera. Also, we have specially updated the motherboard, the latest chips and all electronic components, which are more durable than general truck backup camera, the signal is more stable, the image is clearer, and the transmission distance is longer. Durable Camera Intelligent SystemThe rear view camera with Super night vision, and wide viewing angles of 150. Camera for car support on/off guide lines, adjustable mirrored/normal view, flip images horizontal flip/vertical flip, adjust the width/length/downward angle for guide lines. Easy & Quick InstallationSecurity camera for car easy to install.
You just hook the transmitter and power supply to them, They will transport video signals auto. Also a wide power supply board is built into the car backup camera to protect the camera from damage. Why choose AMTIFO wireless backup camera with 7 inch monitor kit? Easy installation: Built-in transmitter inside, makes it more compact and simple, wireless means between camera and monitor, no need to run complex wires like wired ones. Stable digital wireless signal: No interference, no flickering picture, stable working range.
Monitor with 2 channels: The trucks rear view camera system can add second camera (licence plate camera or trailer camera), you can observe the driving situation of the road from multiple direction. Safe parking:A nice wide angle field of view as 150°horizontal makes sure the rear view not too limited or too distorted. And you can turn on and DIY adjust guidelines. Super night vision: Illumination can be as low as 0.1LUX. Whether it is day or night, the system can send vivid picture quality.
Rearview Camera and Display Easy Installation Due to some areas is too high temperature, here are some tips for you to use a backup camera system longer in summer:? Park your car in a cool place to escape the heat. If the temperature inside the car is too high, you can turn on the air conditioner to cool down. If time permits, we should first open the doors and windows to ventilate and cool down. Install the monitor in a place where it can be temporarily removed when not in use and installed when needed. Blocking the front glass can effectively reduce the temperature inside the car. Apply a film to the window to block the heat and ultraviolet rays inside the sun. Read more 7 Inch Monitor with 2 Channel?
Back up camera system wireless 7 Inch monitor has 2 channels, you can full/split screen to see driving condition. Press + button, you can switch the screen to split screen or full screen.
You can choose add 2nd licence plate backup camera or trailer camera for the system 2 Ways mount monitor? The display can be mount on the dashboard or fix on the windshield according your need. Super Night and Day Vision? Upgraded HD 1080P rear view camera system provides a clear picture, which restores what you see behind your car directly. Van backup camera show a nice colorful night image Read more IP69K Waterproof?
You can turn on /off the guide lines? Also You can DIY the guide lines on the screen, you can choose anyone according to your car.
If you do not need, you can also set it on the monitor. The bigger the camera angle is, the more image distortion you get.
Which makes 150 degrees golden angle for parking. Together with the adjustable parking lines fit different heights camera installation place make a trusted parking assistant. The waterproof standard of this camera is IP69. The highest and lowest temperature resistance is -22°F149°F. Read more With image flip function you can switch to facing view (front view) or images upside down (Vertical flip).
We stand behind our products. Your receive the wrong item.

---